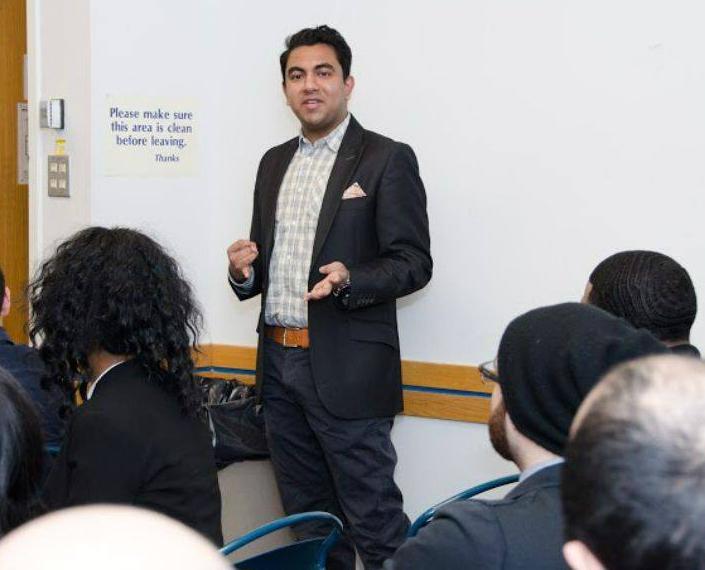 Today am presenting another special interview with Sultan Moni, a young entrepreneur, CEO and founder of several business ventures including Central Dominion. Sultan is also a talented public speaker; he has spoken in various events around Toronto, Canada.
Checkout the interview:
1. Who is Sultan Moni?
If I had to describe myself in one word, I would say I am a "dreamer". A dreamer who cheated on his fears, broke up with his doubts, got engaged to his faith, and now he's marrying his dreams. A dreamer who loves dreaming, but more than dreaming he loves turning his dreams into reality. A dreamer, whose dreams are so big that he himself, gets scared of it. A dreamer who doesn't want his dream to end when he wakes up, He wants to wake up and live his dream with his eyes open. I don't want to dream my dreams I want to live them. That's who I am, that's who Sultan Moni is.
2. You are young How did you come up with the idea of starting Central Dominion at such age?
I believe age is just a number, so I wouldn't go deep into the age part however; Central Dominion was an unplanned start-up. My business partner and me were initially planning to launch something else. We had a completely different business plan. We were all ready to launch, but that's when all these start-up problems came in and we couldn't launch our business. I started doing research for months and came up with the solution to the problem. During my research I came across a wide audience of entrepreneurs who were stuck on the same boat as me. Varun Agarwal a successful entrepreneur and author once said, "an entrepreneur is a problem solver" there it was, there was a pool of problems entrepreneurs were facing and I had the solution. It was a perfect opportunity. That's when Central Dominion was created.
3. Why choose to help young entrepreneurs launch their business,why not go for already established ones?
We serve both the markets, already established business as well budding entrepreneurs. We just tend to focus more on helping young entrepreneurs launch their business. Because, already established businesses know their way, usually an established business tend to have the network and capital needed for branding, marketing and all other business needs. But young entrepreneurs, who are launching business for the first time, tend to be lost. They don't know how the market works or their way out. Most of the start-ups unless backed up by a VC do not have a large start-up capital. And that problem demotivates them from chasing their dream. And that's the problem that I want to solve. That was the main reason Central Dominion was created.
4. What are some of the biggest challenges you encounter starting your own business?
The services Central Dominion provides today were one of the biggest challenges I encountered start up my business. I had a business idea, but I didn't know what to do after that. I was lost, I didn't know how to register, how to market, branding or anything about the industry. I did find companies willing to help me, provided I dump in a big chunk of money in their office. I am glad I faced those problems, because if it weren't for those challenges, my company wouldn't exist today. I constructed my problems to make money for me today.
5. As a start up consultant, what are the challenges you faced when helping young entrepreneurs in their line of business?
They have a lot of absurdity ideas in their head as to why they can't succeed. They complain how they don't have the resources, time, capital, connection and the list goes on and on. Reid Hoffman quoted "an entrepreneur is someone who jumps off a cliff and builds a plane on the way down". "Jumping off a cliff" shows he/she is taking the risk. We've heard over hundred or probably thousands of successful people quoting how taking risk is very important, because you don't know if it's going to work or not if you don't try. "Builds a plane on the way down" shows you have to make the best use of all the resources you have. Make use of whatever tools, capital, and connection you have access to. This is something entrepreneurs today fail to see. Some of their list of reasons why it won't work is longer than my grocery list! Which is not necessarily bad, it's good that you are identifying your drawbacks and weakness, but what's bad is that they let those reasons become the reason as to why they never started.
6. What are your plans for Central dominion for the future and where do you see sultan Moni in 5 years from now?
Our main focus for this year is to make starting a business easy as ordering a pizza. We are developing an interactive platform, which will allow entrepreneurs launch their business by just a clicking of a few buttons on their keyboard without stepping out of their home. We are trying to introduce the ordering pizza online concept to this. You choose your package or customize your own start -up package based on what you need and you get it all delivered to your doorstep hot and ready just like pizza. Also, it's affordable. We partnered up with some pioneers in the industry to provide our clients a paramount service for an affordable price. And as for me, I see myself as a published author along with being an entrepreneur, investor, start -up consultant and public speaker, heading to my private island on my private jet while writing my third or fourth book.
To learn more about Sultan Moni and his vast wealth of experience visit any of the following links
Thanks, Sultan!